Well today was an easy day or shall I say half day. Myself and my teammate are completing a lesson study. It is a very long process but we have finally made it.....FILMING DAYS!! Yep that is right folks we are filming our lessons. Has anyone completed or been a part of a lesson study before??
Here's how it works:
1. Read a book about lesson study to be "experts."
2. Fill out all the paperwork and forms.
3. Figure out what in the ___________ we are going to teach it on.
4. Plan the lesson.
5. One person teaches the lesson and we film it.
6. We critique it and change parts that need to be changed.
7. The other person teaches it and we film it.
8. We reflect on what we learned and are finally done!
We completed steps 6 and 7 today. I will be teaching the lesson tomorrow and then half day again to do out final reflection. Phew!!! We have been working on this since late November and we have finally made it!! I am really excited to watch my film tomorrow and find ways to become an even better teacher.
So after doing this we have our BIG BLOWOUT Early Release day with all the second grade teachers at our building. I got my activity all copied for the rest of the teachers. I hope they like it as much as I do!?!?
I got a very exciting email today...it was from Tammy at First Grade at Klinger Cafe.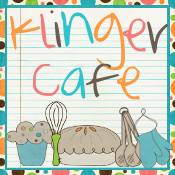 She is my secret Valentine from the BIG Valentine Exchange from Ms. Preppy, but it had nothing to do with my Valentine gift.....she saw that my birthday was coming up and gave me a gift card to TpT!! I couldn't believe it, someone I don't even know in real life being so kind and giving me a gift for my birthday. She is so nice, I still can't believe it. Please go check out her blog if you haven't.
Last but not least I got some sad news today when I got home...the hubby will be on a work trip the week of my birthday. The birthday part doesn't bother me, but a WEEK!!! I can't sleep alone for one night! Who is coming over for a bloggy slumber party?!?! I don't know how I am going to make it!! Well I have a couple weeks to figure that out. Off to go walk with my bff another 5 miles! We are kicking butt! ;)