My favorite girl Holly is having her very first linky party!! I am really excited to be apart of it and show some Crisscross Applesauce support!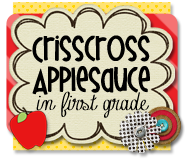 Here are some of my good pictures. I have to warn you that I am a pretty organized person minus a few small areas in my room! :)
This is the shelves where my kids keep some of their supplies since we have tables and they have NO room to put anything. The kids know Mrs. Cirrito will be upset if the supply person does not keep their colored shelf clean!
This is my classroom library. It wasn't too bad. Some of the books are looking a little crazy but for the most part it is pretty organized. The different color bins correspond to a colored dot on their name tags. The students know they can only get in that colored bin. I do it according to AR levels or Lexile levels. As the kids increase during the year I move them to different bins. Twice a month I check out new books from the library for my reading area. I was finding most of my kids weren't bring back books that were at their level so this is how I solved that problem!
On to the bad...
These are a lot of my math manipulatives. They aren't all in the same bins with labels, which is what I would like. I plan on working on this for next year since I will be moving rooms.
This is the top draw by my desk. It has all my office supplies just thrown in. It also is the home to my GREAT protein bars that I eat for lunch everyday!
Here comes the ugly...both of these pictures are of my closet. This is the one stop in my room that I literally just throw things in. I don't have to see it so it doesn't bother me that it is a mess.
Well you have seen the good, the bad, and the ugly of my classroom. If you would like to link up head on over to Holly's blog. We are going on a field trip tomorrow, which I am SUPER excited about!! I will have to share all the details!
[Glitterfy.com - *Glitter Words*]