I am here to announce the winners of my giveaway! So I am very unconventional when it comes to most things so instead of letting the computer choose the winners I had my hubby pick 3 numbers between 1 and 31. Those lucky ladies are now my winners! (He liked being involved, maybe a little too much!)
First is.........Holly over at Crisscross Applesauce in First Grade!
Second is..............Heather over at Swinging through Second Grade!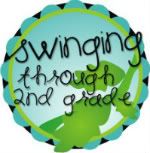 Last but not least is..............Jennifer at First Grade Blue Skies!

Congratulations! I will send out your new math unit first thing tomorrow morning!
On another note I would like to thank Leanne over at Spend a Day in Second Grade and Kim at The Adventures of a First Grade Teacher for giving my the Liebster Award! Thank you both so much for thinking of me and my blog!
So I am FINALLY out of school and what a day it has been...2 trips to the Good Will and about 15 trash bags later out unfinished part of our basement looks SUPER! It was one of our holiday break goals to go through it all and well we did, but I am exhausted! I wanted to share a few things we did this week at school:
We made symmetry folders! We cut out different shapes and then folded them. The kids were able to visually see the different lines of symmetry. I got the shapes off of
Super Teacher Worksheets!
We also wrote stories about "if tomorrow was a snow day I would...." The kids loved writing these and of course I had to use a snow globe for their drawings! I have seen so many cute snow globe writing ideas lately and I was totally on the bandwagon!
And in the Christmas spirit I wanted to show off the wreath I made to match our tree! I had gotten the material from Holiday Mart and I finally got around to making it! I am actually pretty obsessed with it! I think I want one for every holiday!
Well that is enough for now. My hubby is begging me to get off so we can go see the new Mission Impossible movie! We are both exhausted from cleaning the basement and need some down time. My winners, be looking for your new math unit tomorrow morning!