My new obsession is anchor charts that I find on Pinterest! I thought I would share some of my favorites that I plan on doing this year or saving for next year.
I am planning on using this one the week of Valentine's Day to review what a good friend is and why it is important to treat each other with respect. (I think some of my friends forgot this during this past week so it is my job as the teacher to REMIND them!)
This one I am planning on making whenever I have the free time. We practice fluency everyday. I will have to post how we do that. I am seeing great improvements in some of my kids. One student went from reading 15 WPM to 83 WPM!!!I was super proud of her!
These two I will be making in our next writing unit. We will be working on the Lucy Calkins unit Small Moments. I started a little later than most of you (after winter break) so I am just now finishing the first unit. We will be having our Author's Celebration next week. I got a really cute children's chair that I want to paint and fix up all cute for my kids to sit in when it is their time to share. I will show you a picture when I get it all done.
Well I need to say thank you to Elisabeth at Twins, Teaching, and Tacos! She gave me the favorite follower award and sent me one of her units for free! She is super sweet and generous. If you have not checked her about please do!!!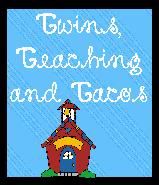 On to something craft my bff and I have been working on. We have some babies birthdays to go to tomorrow and I was in charge of making the little girls outfit. I ironed on the cute little cupcake on the front of the hoodie and then hand sewed an E on the back because her name is Emma. It turned out pretty cute!
Last but not least don't forget to enter in my giveaway! I will choose a winner Sunday evening.
Click Here!
P.S Leanne (Spend a Day in Second Grade) and I are long lost sisters:
1. We are both Kansas Girls!
2. She is teaching at the elementary school I went to growing up.
3. Both of our birthdays are on February 25th!!!!!
Totally crazy!!